We chose growth debt as we found it more flexible than equity, which proved to be true during the intervening years and now at exit."

– Bob Stewart, CEO & Co-founder, Investedge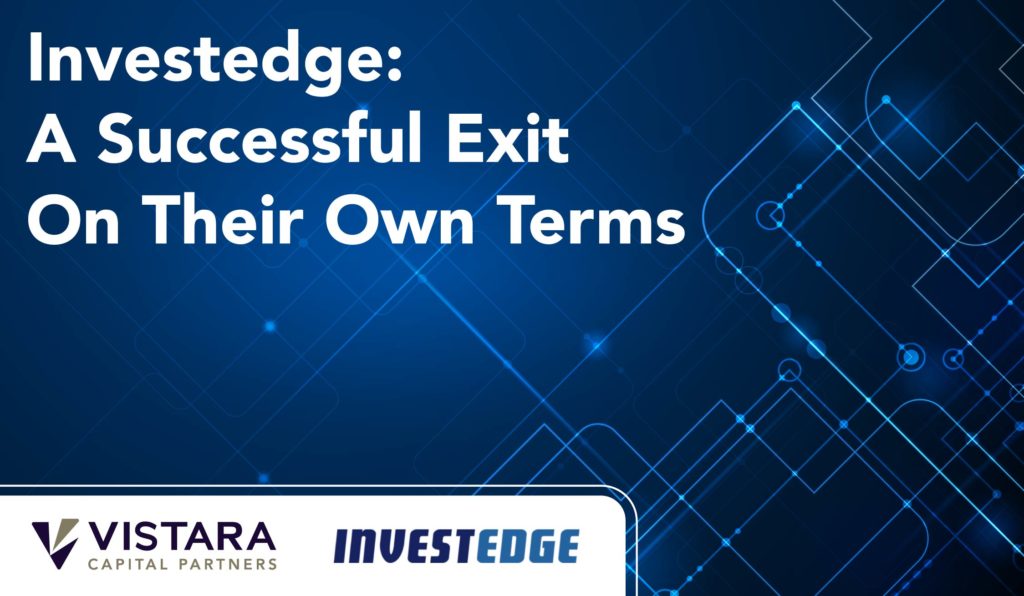 Four years ago, the decision to take growth debt over equity for more flexibility sounded counterintuitive to some, but for Bob Stewart, Co-founder of Investedge, it made perfect sense. As now proven through the recent sale of the company, Bob, his co-founder "RC" Collins, and employee shareholders were all significant beneficiaries of owning more of their hard-earned growth.
Bob recalls, "In 2016, having bootstrapped Investedge from an idea to servicing over $1 trillion in assets at the time, we made the decision to take our first external capital in the form of growth debt from Vistara instead of the other options available to us. Certain aspects of equity structures had given me pause, specifically giving up control rights while only selling a minority stake in my business, including the ability to block the sale of the company unless investors achieved a high enough multiple on their investment. We chose growth debt as we found it more flexible than equity, which proved to be true during the intervening years and now at exit."
Bob remembers that, "over my career, I've heard of founders selling for tens or even hundreds of millions but personally walking away with only a small fraction as they had taken on too much dilution and lost control of their own companies along the way. RC and I weren't going to let that happen to us. When we chose to seek liquidity at this time, we were very glad we did not have to ask anyone for permission, having full autonomy to select the buyer and deal of our choice. In the end, these important decisions allowed us and our employee shareholders to own over 95% of the business upon exit – a rare feat and one that delivered a meaningful outcome for ourselves and our team."
Co-founder RC further explains, "We also chose Vistara as we felt their overall approach and personalities were a better fit for our team than other investors we engaged with. They weren't as formulaic and were willing to create a very customized deal for us and were also willing to dig in and lend a hand to management, much like an equity fund would, and as compared to more traditional lenders. We also didn't want to incur the full cost of excess capital until we really needed it, and Vistara was flexible, allowing us to draw a portion over time in a standby structure. Several years into the relationship when most other lenders would require the company to start paying back the loan via amortization payments, we approached Vistara for additional growth capital. To be frank, I wasn't sure what their response would be. For many years I had worked at a bank and knew most lenders would simply just say no. Fortunately, Vistara saw it as an opportunity to further support the relationship – something we didn't expect from a lender. "
Bob adds, "Vistara's non-amortizing loan structure provided us with four years without having to consider principal payments, allowing management to pursue various product and go-to-market growth initiatives before choosing the right time to raise equity or consider selling control of the business. Those keen to secure capital but retain more control of their destiny would be wise to explore growth debt, and from our perspective, consider working with the team at Vistara given their overall growth oriented approach and experience in working with companies like ours."
Growth Debt has become an important consideration for many savvy tech founders looking to enhance their ownership stakes, while preserving the flexibility to pursue growth on their own terms.  For Bob, RC & the employee shareholders of Investedge, they have truly embodied what it means to "Own Your Growth".
Investedge (Philadelphia, PA) is a leading wealth management and customer engagement software platform enabling investment professionals and advisors to build long-term client relationships. Investedge counts over 100 wealth management and blue chip financial services firms as its customers, with the platform helping to manage a total of over $2 trillion in assets.