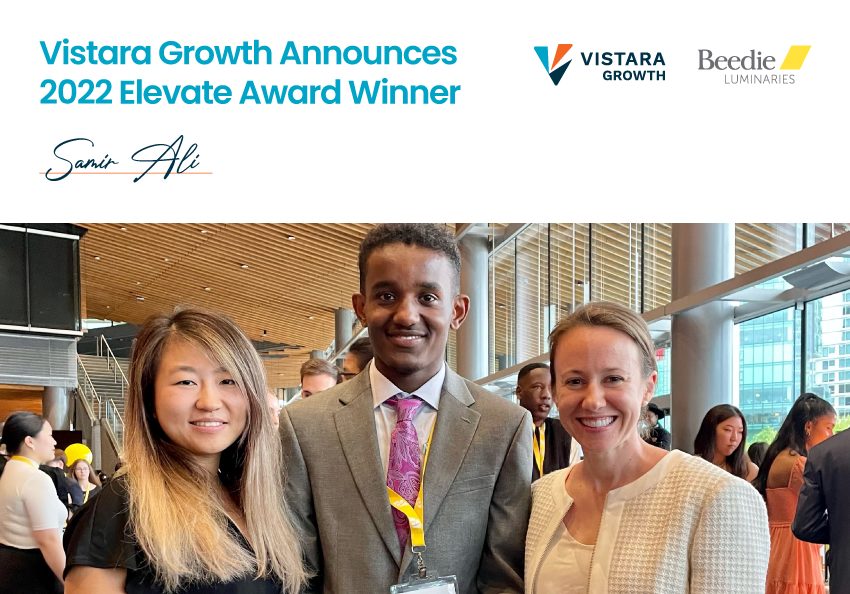 2022 Vistara Elevate Award recipient Samir Ali (middle) is pictured with Tracy Zhang (left) and Kathleen Kaulins (right) of Vistara Growth.
---
UPDATE: In July 2022, only a month after presenting this award, we learned of Samir's sudden passing in a tragic car accident. Samir was set to embark on his first year of university and a future filled with continued community leadership and personal success. The Vistara Growth team is dedicated to providing meaningful support to his family, and to preserve Samir's legacy in the wake of this unimaginable loss.
---
In August 2020, we launched the Vistara Elevate Awards, initiated as part of the Beedie Luminaries Program to support students of ethnic and racially diverse backgrounds who are pursuing degrees in finance and or STEM (Science, Technology, Engineering & Math).
This year's worthy recipient is Samir Ali of Vancouver, British Columbia. Samir is pursuing a computer science degree at the University of British Columbia. As a refugee from Kenya, Samir is passionate about using technology to help serve his community. For example, he developed a website that helps other newcomers to Canada more easily find the resources they need to support their families. He also volunteers weekly at the Junior Youth Empowerment Program where he mentors pre-teens.
As this year's recipient of the Vistara Elevate Award, Samir will receive a full tuition scholarship for one year and a summer internship with Vistara in 2023. Samir will also be mentored by the Vistara Growth team led by Noah Shipman throughout his four-year post-secondary journey.
We would also like to acknowledge and thank Atta Ur Rehman Faiz, the 2021 recipient of the Vistara Elevate Award for his valuable contributions during this year's summer internship. Atta is returning to his studies at the University of British Columbia in computer science and mechanical engineering.
The summer internship at Vistara has been an invaluable experience for me to learn the financial and operational side of technology businesses, while getting to work with a kind, dedicated and supportive team. What I now understand through this hands-on experience will be essential as I aim to apply my engineering background to create an impactful venture of my own. I appreciate Vistara's continued support and mentorship, and I look forward to what the future may hold."

Atta Ur Rehman Faiz, Winner of 2021 Elevate Award
Atta Ur Rehman Faiz (middle) is pictured with Randy Garg (left) and John O'Donoghue (right) of Vistara Growth.
---
About Vistara
Vistara Growth provides highly flexible growth debt and equity solutions to leading technology companies across North America. Founded, managed, and funded by seasoned technology finance and operating executives, "Vistara" (Sanskrit for "expansion") is focused on enabling growth for the ambitious entrepreneurs we invest in, our investors, our people, and the communities we operate in.
Interested in Growth Funding?
If you're interested in growth funding for your mid-stage technology company, talk to us! We would be delighted to discuss our flexible growth capital solutions.