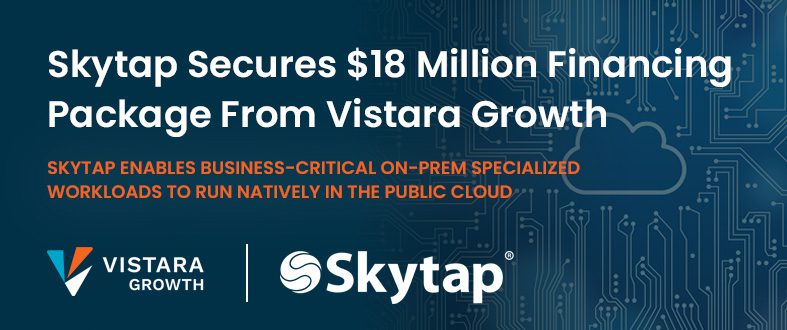 Skytap, a Seattle-based leading B2B Infrastructure as a Service company, ("IaaS") has arranged access to $18 Million from Vistara Growth, a provider of flexible growth capital to software and technology-enabled services companies. Existing investors in Skytap include Madrona, Insight Partners, and Goldman Sachs Growth.
Skytap lets businesses migrate, run, and modernize IBM Power and x86 workloads in the public cloud without rewriting or costly re-platforming efforts. Skytap's technology allows organizations to extend the value of traditional systems and gradually modernize them with cloud-native architectures and services at their own pace.
The company solves a significant customer pain point by offering a superior solution for specialized workloads that are resistant to the cloud, rather than requiring them to either re-platform or continue to invest in on-premises infrastructure capital and management. It does this by offering a cloud service that runs AIX, IBM i, and Linux on Power systems natively in the public cloud, with little to no change.
Skytap CEO Brad Schick commented, "We looked for a capital partner who could help Skytap accelerate product and go-to-market investments as we find new opportunities. Vistara was a perfect fit for Skytap."
Skytap CFO Barney Silver added,
This is the second time I have worked with Vistara, and both times it hit the mark with tailored financing solutions to accommodate different company and shareholder preferences. Vistara is nimble and collaborative in approach and has always followed through on its word, providing certainty during a critical growth period. I am happy to continue my relationship across successive companies with Vistara."
Proceeds from the financing will advance the technology roadmap and expand go-to-market initiatives with Microsoft Azure, IBM, and other partners. Skytap continues to see accelerating demand as customers expand usage and modernize applications by enabling access to cloud-native services such as advanced analytics, AI & machine learning, and agile development.
Noah Shipman, Partner at Vistara Growth commented "When seeking to modernize heavily customized enterprise applications running on specialty infrastructure, there are often no good options – either complex re-platforming or costly capital expenditures. Skytap provides a capitally efficient and trustworthy solution to this seemingly no-win situation while providing a new and differentiated offering for public cloud providers to offer their enterprise customers.  We are excited to team up again with Barney, and to work with Brad and the rest of the Skytap team and investors to execute this next phase of company growth."
For more information on Skytap, visit its website at: www.skytap.com
About Vistara Growth
Vistara Growth provides highly flexible growth debt and equity solutions to leading technology companies across North America. Founded, managed, and funded by seasoned technology finance and operating executives, "Vistara" (Sanskrit for "expansion") is focused on enabling growth for the ambitious entrepreneurs we invest in, our investors, our people, and the communities we operate in.  For more information, visit vistaragrowth.com
Looking for Flexible Growth Capital?
Read our case studies to learn how our growth debt and equity solutions have enabled our founders and helped our portfolio companies.