Vistara Growth is proud to announce that Portfolio Company Kore.ai has been named a Leader in 2022 Gartner Magic Quadrant for Enterprise Conversational AI Platforms. This is the first report published by Gartner on this emerging market, providing a comprehensive overview of Kore.ai's industry leading capabilities and those of its competitors.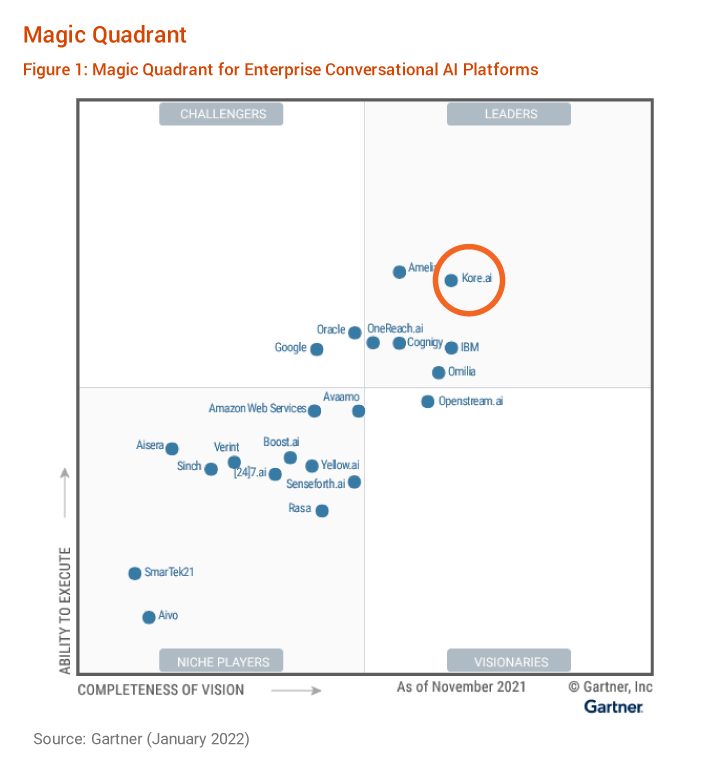 As denoted by Gartner, "Enterprise conversational AI platforms (enterprise CAIPs) focus on the needs of larger enterprises by targeting multiple use cases, modalities of conversation (i.e., speech, chat, text messaging and email) and the ability to operationalize within the enterprise." Within this category, Gartner added "Kore.ai offers one of the most complete feature sets in the market packaged in a way that caters to the needs of large enterprises that want a single solution to cover multiple use cases."
Kore.ai helps the world's best brands optimize experiences for customers, employees, and agents through digital and voice virtual and business process assistants built on its market-leading Experience Optimization platform. Companies who prioritize customer and employee experience use Kore's no-code platform to raise CSAT, NPS and lower operational costs.
"Our journey to date with Kore.ai began in 2018, with an initial investment in 2019, witnessing 100% year over year revenue growth, and then leading the company's most recent US$50 million Series C financing.  During this time, Kore.ai's relentless work on developing its world class platform has continually addressed the needs of a growing set of global customers." said Randy Garg.  "We wish to congratulate Raj Koneru and his team on achieving yet another milestone with this latest very important recognition."

About Vistara Growth
Vistara Growth provides highly flexible growth debt and equity solutions to leading technology companies across North America. Founded, managed, and funded by seasoned technology finance and operating executives, "Vistara" (Sanskrit for "expansion") is focused on enabling growth for the ambitious entrepreneurs we invest in, our investors, our people, and the communities we operate in.  For more information, visit vistaragrowth.com
Looking for Flexible Growth Capital?
Read our case studies to learn how our growth debt and equity solutions have enabled our founders and helped our portfolio companies.