We recently announced that we are partnering with Boston-based meQuilibrium to help further accelerate the company's growth. Read more to learn why we invested and the reasons we are excited about meQuilibrium's continued expansion.
A High Growth Company at the Intersection of HRtech & Healthtech
meQuilibrium is a leading digital solution for building employee resilience at scale. The clinically-validated platform is used by Fortune 500 companies to holistically address burnout, stress, and employee wellbeing by increasing resilience at both the individual and organizational level. The company has more than 500,000 members on the platform and has gathered over 60 million points of population data, enabling the use of machine learning to deliver personalized recommendations to increase employee engagement and drive HR strategy and business outcomes.
meQuilibrium has been measuring and improving employee mental health and emotional wellbeing, performance and overall resiliency since its founding in 2010. It has experienced steady growth that surged during the COVID-19 pandemic as employees struggled to adapt to an increasingly complex work environment and employers felt the urgent need to support their workforce. The demands of a constantly connected workplace have left employees exhausted, anxious, and burned out. These feelings have been further exacerbated by the burdens of uncertainty and turmoil that have resulted from the current pandemic. Today, 59% of workers worry about their mental wellbeing, specifically reporting concerns around stress and burnout. As a result, companies' prioritization of and investment in employee wellbeing has drastically accelerated as they look to curb absenteeism, turnover, and decreased productivity.
Trust Built Over Time Enabled Remote Investment
HRtech, Healthtech and their intersection are areas of focus at Vistara Growth. Our interest in the space and our relationship with the company was established well before the pandemic. Even then it was clear to both employers and investors that employee wellbeing solutions are must-have rather than nice-to-have offerings for successful companies. By establishing a consistent level of interest and building trust over time, we were well positioned to work together when the time was right for meQuilibrium to add growth capital. That trust also provided Vistara the confidence to complete a fully remote investment in a fully remote business. We are thrilled to work with CEO and Co-Founder Jan Bruce, COO/CFO Tom Brennan and the entire meQ team and group of tech and healthcare focused investors.
Resilience: The Right Solution for Today's Workplace
Depression and anxiety cost companies $1 trillion a year in productivity globally. Resilience, the ability to successfully navigate stressful or challenging situations, is a tangible skill that can be taught to improve mental wellbeing and help lower these costs. meQuilibrium's platform is designed to help employees build resilience. Even once the current COVID-19 pandemic passes, we will continue to live in an environment of persistent disruption and constant change.
meQuilibrium has successfully helped companies thrive in times of uncertainty with its digital content-based asynchronous coaching platform that offers highly personalized upskilling to improve employee engagement, performance, and wellbeing, ultimately delivering tangible ROI. Specifically, meQuilibrium has found that resilient workforces are 60% less likely to experience burnout, 31% more engaged, and 50% less likely to experience stress-related productivity loss.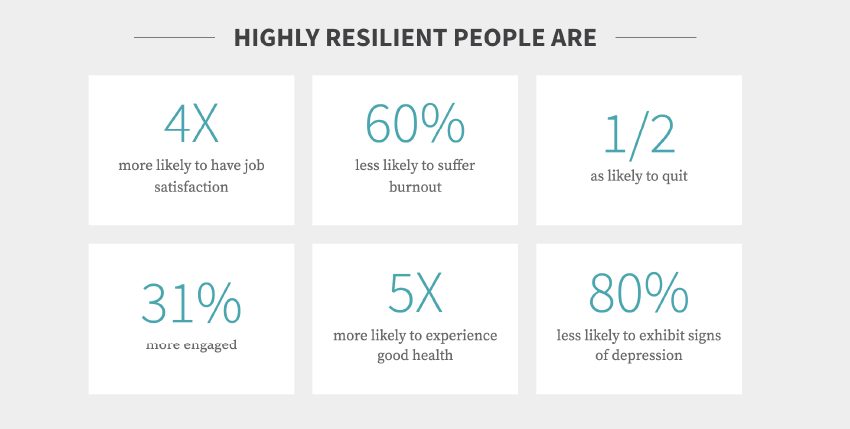 Differentiated by Proven Science
meQuilibrium leverages the science of resiliency, artificial intelligence, predictive analytics and biometrics to enable businesses to build higher performing teams. As we assessed meQuilibrium in the context of the broader employee wellness space, what stood out about the company's offering compared to other vendors was its foundation in neuroscience principles and clinically-validated assessments to deliver tangible results. Specifically, the company's offering builds upon 18 unique factors, ranging from emotional intelligence to sense of purpose, that train people how to better respond to instances of change or transformation.
Today, the company's customer base is comprised of over 60 leading corporations, including global enterprises such as Ford Motor Company, Johnson & Johnson, Comcast NBC Universal, Marriott International, and Paychex, among others, as well as a growing number of health plans.

Breadth & Depth of Solution
In addition to its proprietary predictive models and unique data assets, the breadth of meQuilibrium's offering is also attractive. The company offers a full enterprise suite, with the ability to create interactive, personalized recommendations and behavioral interventions at both the individual employee level as well as for the entire organization. Additionally, meQuilibrium's robust analytics capabilities deliver executive-level insights and real-time dashboards that help organizations identify workforce trends and top challenges, as well as proactively predict risk before negative outcomes transpire. As a result, the company is able to help solve problems across the HR workflow, including those that touch benefits, talent, learning and development, as well as diversity and inclusion. Given these broad capabilities and with its platform available in 14 different languages, we believe that meQuilibrium is well positioned to meet the growing needs the largest global enterprises serious about employee resilience and wellbeing.
Poised for Expansion With Flexible Growth Capital
With our growth financing, meQuilibrium is well positioned to continue its product and market leadership for employee wellbeing solutions. The company is prepared to accelerate investment in its product roadmap, pursue acquisitions of complementary technologies, and has the budget for ambitious go-to-market initiatives including building out partner channels.
We worked closely with the meQuilibrium team to design a flexible financing solution to meet the company's needs in support of such growth. This includes capital today as well as the optionality to access additional capital in the future at the company's option without having to incur costs if that capital is not needed.
It has been a pleasure getting to know Jan Bruce, Tom Brennan and the rest of the meQuilibrium team. In addition to their expertise in building resilient and agile workforces, the depth in understanding best of breed and highly integrated HR technologies and overall people and organizational strategies is evident across the company.
As part of our diligence speaking with various meQuilibrium customers and partners, many highlighted the company's superior technology and content, but also customer support, approach to partnership and access to company leadership as key differentiators. We are thrilled to support meQuilibrium as the leading digital solution for building employee resilience and look forward to partnering in support of the company's continued growth and innovation.
Looking for Debt or Equity Funding?
We would be delighted to discuss our flexible and tailored growth capital solutions.