Vistara is living up to its promise to enable growth in local communities by enrolling in SVP Vancouver's Community Business Partnership Program. Soft launched in April 2021, the program gives businesses across the Lower Mainland in British Columbia the opportunity to support more than 20 local non-profits and connect with a network of nearly 200 engaged philanthropists to help children and youth.
"I was introduced to SVP in 2015 when our family was seeking opportunities to engage in supporting the local community," says Randy Garg, Founder and Managing Partner at Vistara. "We were very impressed with the organization's innovative and collaborative approach to philanthropy. Our family loves the volunteering opportunities that ­­­­arise over the course of the year."
SVP Vancouver, also known as Social Venture Partners Vancouver, was established in 2001 to take an innovative approach to philanthropy. Beyond financial support, the group of business and community leaders leverages, networks, professional skills and resources to help local non-profits (referred to within the SVP network as "investees") to increase their capacity to deliver positive social impact.
SVP's local success stories include Take A Hike Youth-at-Risk Foundation, The KidSafe Project, St. James Music Academy, Yo Bro Youth Initiative Society, ONE TO ONE: A Children's Literacy Program, and many others. They've realized that helping individuals realize greater impact with their giving, building the capacity of non-profits, and investing in collaborative solutions unleashes potential. Potential to leverage local partners who align with passion and purpose; That's SVP.
"We are thrilled to have Vistara Growth join our Community Business Partner program and join the SVP team. We know that our portfolio of non-profits providing support to some of Vancouver's most under-resourced children and youth will benefit from the capacity building resources and volunteer time and expertise that the Vistara team brings. We hope their level of commitment and engagement will inspire others in the business community to get involved."

– Helen Stortini, Executive Director, SVP Vancouver
"Working with SVP will offer fantastic opportunities for our team to offer their time and expertise to help local non-profits thrive," adds Randy. "Our team has a broad range of business skills that I'm sure will be put to good use to support SVP's non-profit portfolio. Our purpose aligns strongly with SVP's goal of helping children and youth achieve their full potential. We are proud to support their impactful efforts with our time and financial donations."
As a member of SVP's Development Committee, Randy hopes to encourage other successful local businesses to join the new Community Business Partnership Program.
Our first event with SVP: Helping Kidsafe
December 2, 2021 – For our first event with SVP, we feel privileged to have been given the opportunity to help out a local Vancouver charity called KidSafe. KidSafe provides vulnerable children and youth with the safety, nutritious meals and snacks, emotional support, and educational programming they need during school breaks. This December, the two weeks of KidSafe's Winter Break program will include warm meals, holiday gifts, crafts, and care packages for over 300 children at 12 schools across the Vancouver area who need support. It was our pleasure to spend the day with KidSafe to help organize all the supplies. It gave us a small insight to the hard work, dedication, and love that the KidSafe crew shows every day for their community. As a team, we are looking forward to more SVP Vancouver events where we can continue to help the community as a whole.
"It was absolutely amazing to have the team from Vistara helping out at our warehouse on Thursday. As a small nonprofit, we wear a lot of hats and rely on volunteers like Vistara to get a LOT done in a short period of time! I was looking at some very long days and nights in the chilly warehouse, sorting through all the children's clothing, pajamas, toques, socks, gloves, as well as the essential supplies for each site. It was great to have helping hands from the Vistara team! I feel like a weight has been lifted off of our shoulders, freeing us up to focus on the programming we will be delivering to the hundreds of children all over Vancouver during winter break. Thank you so much for taking time out of your day before your team holiday dinner to come lend a hand at KidSafe! You have now all been a part of making the holiday season that much more special for the children and families we serve"

– Erin Bodin, Manager of Programming, KidSafe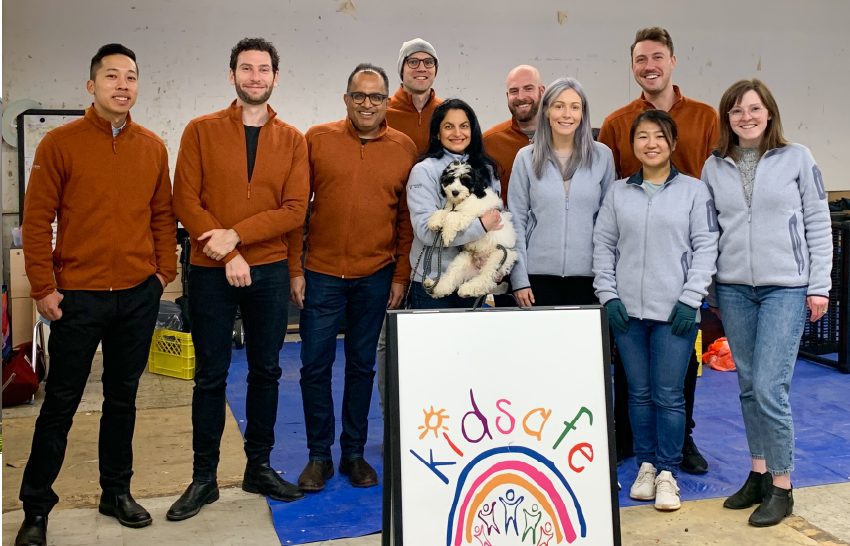 Some photos from the day..
Interested in learning more about SVP?
If you're interested in learning more about Vistara's experience with the organization, please get in touch. Or visit SVP online to learn how to become a partner.