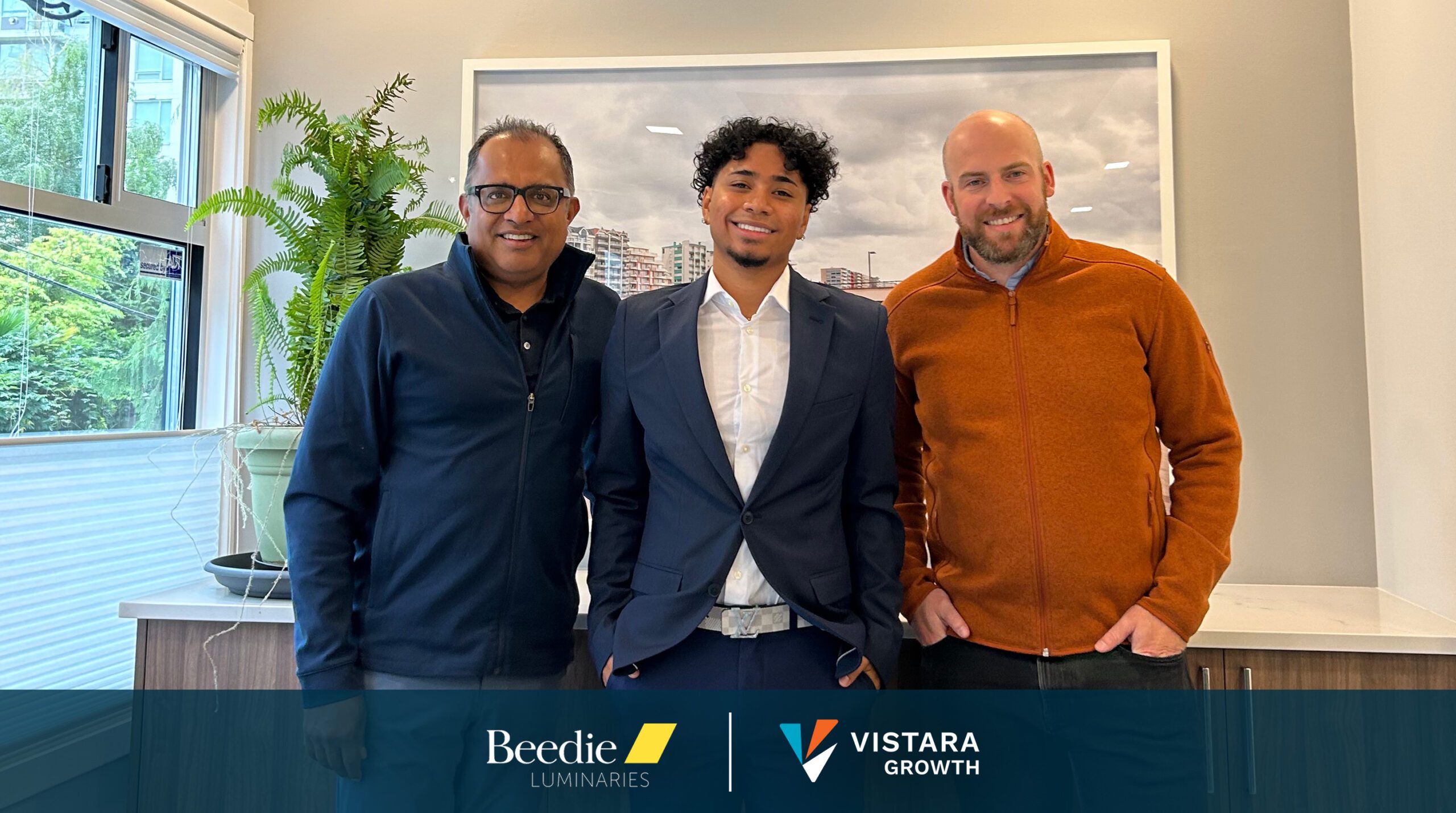 2023 Vistara Elevate Award recipient Aaron Abay (middle) is pictured with Randy Garg (left) and Noah Shipman (right) of Vistara Growth.
In 2020, in partnership with the Beedie Luminaries program, we at Vistara created the Vistara Elevate Award, a way to support students from underrepresented ethnic and racial backgrounds pursuing degrees in finance, entrepreneurship, and STEM fields. This year we are delighted to introduce you to Aaron Abay, the deserving recipient of the 2023 Elevate Award.
Aaron, a budding entrepreneur, is starting his first year at Simon Fraser University's Beedie School of Business to build a strong business foundation and boost his entrepreneurial skills. Despite a busy summer managing summer camps for underprivileged children in Vancouver, he's been hard at work expanding his clothing brand, WAKETHEPEOPLE, by collaborating with global distributors and handling product merchandising, packing, and shipping with a dedicated team of two.
As this year's recipient of the Vistara Elevate Award, Aaron will receive a full tuition scholarship for one year and a summer internship with Vistara in 2024. Aaron will also be mentored by the Vistara Growth team led by Noah Shipman throughout his four-year post-secondary journey. Congratulations to Aaron on this achievement! From his academic pursuits to his entrepreneurial endeavors we are thrilled at the prospect of witnessing the multitude of accomplishments he is bound to achieve in the future and look forward to offering unwavering support, guidance, and encouragement every step of the way.
About The Elevate Awards
Through the Beedie Luminaries program, Vistara has made a $100,000, 5-year commitment to award scholarships to students of ethnic and racially diverse backgrounds. The Vistara Elevate Award is awarded annually to one student who is pursuing a degree in finance, entrepreneurship, and/or STEM (Science, Technology, Engineering & Math). Click the button below to learn more.